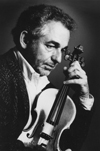 Endre Granat was a student and protégé of Jascha Heifetz.
As premier concertmaster for the Hollywood film industry, he has been chosen by the greatest Hollywood film composers ranging from Miklos Rozsa to John Williams and from Henry Mancini to James Newton Howard and Hans Zimmer as their orchestra leader. He has been concertmaster at the Emmy's, Grammy's, Academy Awards, countless television shows and records.
His solo and symphonic activities on four continents include performances with conductors such as George Szell, Sir Georg Solti, and Zubin Mehta. He premiered the Sequenza #8 by Luciano Berio and gave the first performance of the Schoenberg Violin Concerto in Los Angeles. He is a Laureate of the Queen Elizabeth International Competition and recipient of the Grand Prix du Disque and the Ysaye Medal.
Mr. Granat served as Assistant Concertmaster in the Cleveland Orchestra under George Szell and Concertmaster for the Goteborg Symphony under Sir Charles Mackerras.
He was a Fulbright Scholar and acted as professor of violin at the Royal Conservatory of Music in Goteborg, Sweden, Cleveland Institute of Music, University of Illinois, the California State University, Northridge, Seoul National University and the University of Southern California. He is an editor for the Lauren Keiser Music Publishing Company.
All of the following editions are available wherever sheet music is sold.
Johannes Brahms Violin Concerto in D Major Opus 77, with Analytical Studies and Exercises by Otakar Sevcik, urtext violin part edited by Endre Granat
Felix Mendelssohn - Violin Concerto In E Minor, Analytical Studies And Exercises By Otakar Sevcik, Op. 21, urtext violin part edited by Endre Granat

Henryk Wieniawski - Violin Concerto No. 2 in D minor, Op. 17 with analytical studies and exercises by Otakar Sevcik, Op. 22, urtext violin part edited by Endre Granat
The Essential Sevcik - The Essential Sevcik is a compendium of the finest, most time-saving learning material by Otakar Sevcik ever assembled in a single volume. It is indispensable for building a thorough, virtuoso technique and an important part of the daily practice regimen for the accomplished artist. These exercises are to be practiced with total concentration and attention to the smallest detail. The clear and straight forward organization of this volume will facilitate finding the most suitable practice material for every violinist.